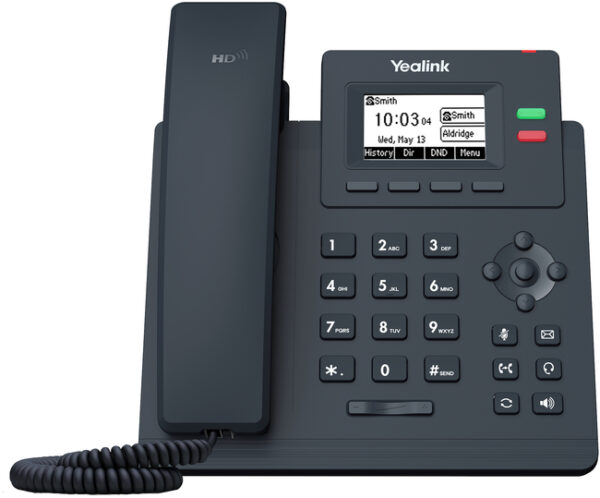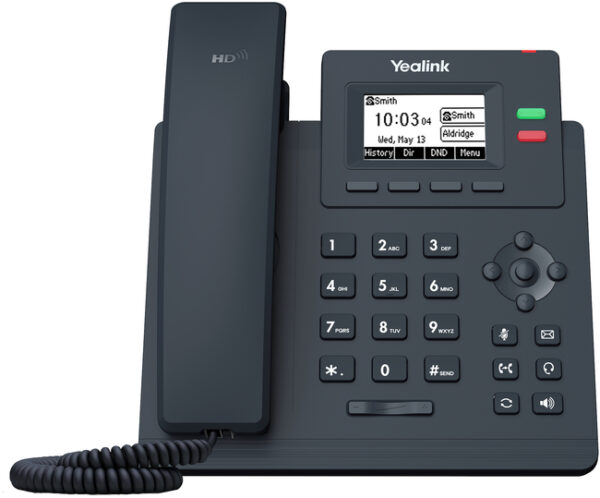 available
The Yealink T31P features an extra-large 132×64-pixel graphical LCD with backlight that brings clear visual experience for users. The T31P offers support for two VoIP accounts and includes local 5-way conferencing to maximise productivity. Working with the adjustable multi-angle stand, the T31P IP phone ensures yo... read more >
Request a price match on this product
Circumstances when prices cannot be matched:
The product is displayed on an Auction website.
The website does not have a direct trading account with the supplier.
The full and final delivered price is not available on the competitors website.
The item is not an identical product.
Pricing error: Outdated, discontinued prices on competitor website.
The product is shown on an affiliate / Comparison website. (The product must be compared on a UK trading website and able to accept payment).
Price matches will not be made retrospectively, i.e once an order has already been placed or delivered.
Price matches will be made on the same delivery basis as the competitor unless agreed otherwise.
The Yealink T31P features an extra-large 132×64-pixel graphical LCD with backlight that brings clear visual experience for users. The T31P offers support for two VoIP accounts and includes local 5-way conferencing to maximise productivity. Working with the adjustable multi-angle stand, the T31P IP phone ensures you to work in different situation. Meanwhile, the T31P features built-in Power over Ethernet (PoE) and superb high definition (HD) sound quality. Easy-to-use and powerful features together with reasonable price deliver excellent voice
Yealink T31P Key Features
Yealink HD Voice
2.3" 132×64-pixel graphical LCD with back-light
Two-port 10/100M Ethernet Switch
PoE support
Opus codec support
Up to 2 SIP accounts
Local 5-way conferencing
Support EHS Wireless Headset
Unified Firmware
Support YDMP/YMCS
Stand with 2 adjustable angles
Wall mountable
Audio Features
HD voice: HD handset, HD speaker
Smart Noise Filtering
Wideband codec: Opus, G.722
Narrowband codec: G.711(A/μ), G.723.1,G.729AB, G.726, iLBC
DTMF: In-band, Out-of-band (RFC 2833) and SIP INFO
Full-duplex hands-free speakerphone with AEC
VAD, CNG, AEC, PLC, AJB, AGC
Phone Features
2 VoIP accounts
Call hold, mute, DND
One-touch speed dial, hotline
Call forward, call waiting, call transfer
Group listening, SMS, emergency call
Redial, call return, auto answer
Local 5-way conferencing
Direct IP call without SIP proxy
Ring tone selection/import/delete
Set date time manually or automatically
Dial plan
XML Browser, action URL/URI
Integrated screenshots
RTCP-XR, VQ-RTCPXR
Enhanced DSS Key
Directory
Local phonebook up to 1000 entries
Black list
XML/LDAP remote phonebook
Smart dialing
Phonebook search/import/export
Call history: dialed/received/missed/forwarded
IP-PBX Features
Busy Lamp Field (BLF), Bridged Line Apperance(BLA)
Anonymous call, anonymous call rejection
Hot-desking, voice mail
Flexible seating
Call park, call pickup
Executive and Assistant
Centralised call recording
Visual voice mail
Call recording
Display and Indicator
2.3" 132×64-pixel graphical LCD with backlight
LED for call and message waiting indication
Dual-colour (red or green) illuminated LEDs forline status information
Intuitive user interface with icons and soft keys
Multilingual user interface
Caller ID with name and number
Power saving
Feature keys
2 line keys with LED
6 features keys: transfer, message, headset, redial, mute, hands-free speakerphone
5 navigation keys
Volume control keys
Interface
2 x RJ45 10/100M Ethernet ports
Power over Ethernet (IEEE 802.3af), class 2
1 x RJ9 (4P4C) handset port
1 x RJ9 (4P4C) headset port
Other Physical Features
Colour: Classic Grey
Wall mountable
External Yealink AC adapter AC 100~240V input and DC 5V/600mA output
Power consumption (PSU): 2-3W
Power consumption (PoE): 3-4W
Dimension (W*D*H*T): 188mm*189mm*162mm*50mm
Operating humidity: 10~95%
Operating temperature: -10~50°C (+14~122°F)
Management
Configuration: browser/phone/auto-provision
Auto provision via FTP/TFTP/HTTP/HTTPS for mass deploy
Auto-provision with PnP
Zero-sp-touch, TR-069
Phone lock for personal privacy protection
Reset to factory, reboot
Package tracing export, system log
Network and Security
SIP v1 (RFC2543), v2 (RFC3261)
Call server redundancy supported
NAT traversal: STUN mode
Proxy mode and peer-to-peer SIP link mode
IP assignment: static/DHCP
HTTP/HTTPS web server
Time and date synchronisation using SNTP
UDP/TCP/DNS-SRV (RFC 3263)
QoS: 802.1p/Q tagging (VLAN), Layer 3 ToSDSCP
SRTP for voice
Transport Layer Security (TLS)
HTTPS certificate manager
AES encryption for configuration file
Digest authentication
OpenVPN, IEEE802.1X
IPv6
LLDP/CDP/DHCP VLAN
ICE
Package Features
Package content:
– Yealink SIP-T31P IP phone
– Handset with handset cord
– Ethernet Cable (1.5m CAT5E UTP Cable)
– Stand
– Quick Start Guide
– Power Adapter (Optional)
Qty/CTN: 10 PCS
N.W/CTN: 9.79 kg
G.W/CTN: 10.83 kg
Giftbox size: 213 mm*210 mm*103 mm
Carton Meas: 535 mm*443 mm*227 mm
Yealink T31P IP phone
Handset with handset cord
Ethernet Cable (1.5m CAT5E UTP Cable)
Stand
Quick Start Guide
Next Day Delivery
For UK orders received before 12pm Monday to Friday, we operate a next business day delivery service, subject to availability. We use next day services from the leading delivery companies.
Specific Time Delivery
If you need an item urgently, or delivered at a specific time, please contact us.
Delivery Methods
We use several leading delivery companies. The majority of our deliveries are made by
DPD, including most international orders.
Shipping prices are calculated during the checkout process.
We deliver to almost every country. For international delivery services, we use DHL, a high quality, fast delivery service. Prices are provided based on the weight of the order; this is calculated when you reach the checkout.
For full shipping information please visit our shipping page.
Hosted Business VoIP Provider Unlimited Calls from £5/month
If you're looking for a reliable and competitive VoIP provider for your small business, we can offer you one of the UK's most trusted services. No need to compromise on quality, either. The capabilities of our VoIP PBX system have been developed over a decade, with our roadmap for the future incorporating even more improvements. Your business VoIP is in safe hands with us.
Learn More
With SIP trunking, your business can operate its own on-site IP PBX system. Xinix has been offering our own SIP trunk solutions for over 10 years.
Business SIP trunking is a service that enables your company to operate a selection of telecommunications systems over your IP network. It offers a number of benefits – from cheaper international call costs to improved business flexibility. Incorporating a Disaster Recovery strategy to give access to an increased quantity of numbers, business SIP trunking from Xinix World can enhance the way your business stays connected.
Learn More