Grandstream GRP2602 IP Phone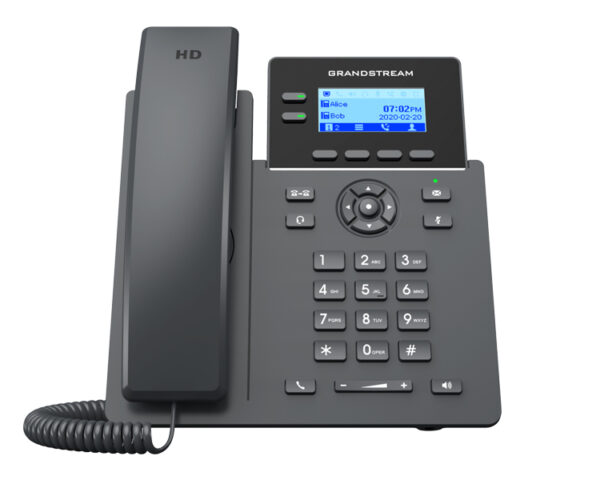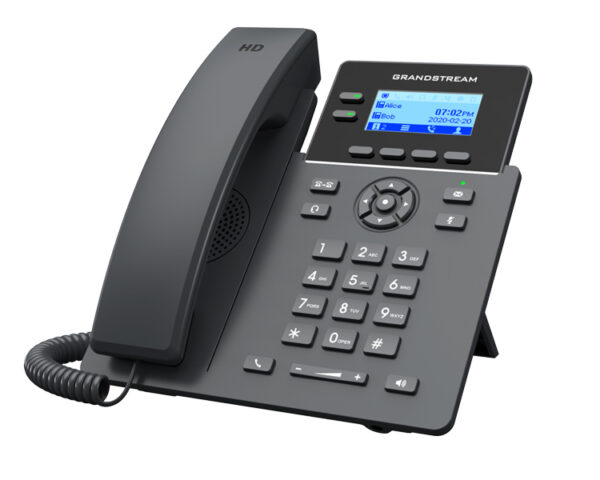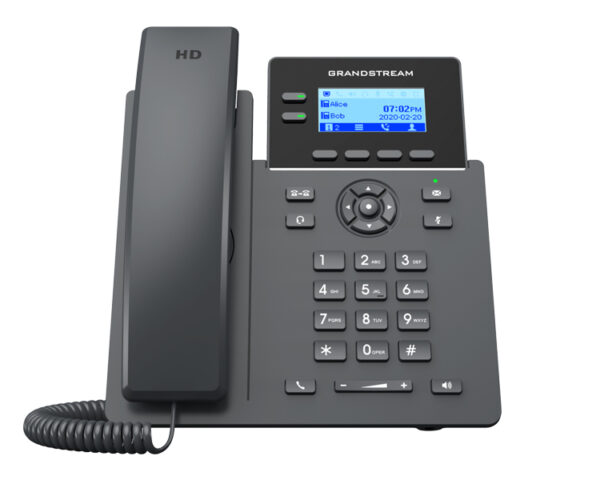 available
The Grandstream GRP2602 is an essential 2-line model designed with zerotouch provisioning for mass deployment and easy management. It features a sleek design and a suite of nextgeneration features including, 5-way voice conferencing to maximise productivity, full HD audio on both the speaker and handset to allow users ... read more >
Request a price match on this product
Circumstances when prices cannot be matched:
The product is displayed on an Auction website.
The website does not have a direct trading account with the supplier.
The full and final delivered price is not available on the competitors website.
The item is not an identical product.
Pricing error: Outdated, discontinued prices on competitor website.
The product is shown on an affiliate / Comparison website. (The product must be compared on a UK trading website and able to accept payment).
Price matches will not be made retrospectively, i.e once an order has already been placed or delivered.
Price matches will be made on the same delivery basis as the competitor unless agreed otherwise.
The Grandstream GRP2602 is an essential 2-line model designed with zerotouch provisioning for mass deployment and easy management. It features a sleek design and a suite of nextgeneration features including, 5-way voice conferencing to maximise productivity, full HD audio on both the speaker and handset to allow users to communicate with the utmost clarity, EHS support for Plantronics, Jabra, and Sennheiser headsets and multi-language support. The GRP series includes carrier-grade security features to provide enterprise-level security, including secure boot, dual firmware images and encrypted data storage.
Grandstream GRP2602 Key Features
Supports 2 lines, and 4 SIP accounts
Supported by GDMS which provides a centralized interface to configure, provision, manage and monitor Grandstream devices
Electronic Hook Switch (EHS) support for Plantronics, Jabra, and Sennheiser headsets
Full-duplex speakerphone with HD audio to maximise audio quality and clarity
Equipped with noise shield technology to minimise background noise
Supports 5-way audio conferencing for easy conference calls
Enterprise-level protection including secure boot, dual firmware images, and encrypted data storage
Swappable faceplate to allow for easy logo customisation
Protocols/Standards
SIP RFC3261, TCP/IP/UDP, RTP/RTCP, RTCP-XR, HTTP/HTTPS, ARP, ICMP, DNS(A record, SRV, NAPTR), DHCP, PPPoE, SSH, TFTP, NTP, STUN, SIMPLE, LLDP, LDAP, TR069, SNMP, 802.1x, TLS, SRTP, IPv6
Network Interfaces
Dual switched auto-sensing 10/100 Mbps Ethernet ports
Graphic Display
132 x 48 (2.21'') backlit graphical LCD display
Feature Keys
2 line keys with dual-colour LED and support for 4 SIP account
4 XML programmable context sensitive soft keys
5 (navigation, menu) keys
8 dedicated function keys for: MESSAGE(with LED indicator), TRANSFER,HEADSET, MUTE, SEND/REDIAL, SPEAKERPHONE, VOL+, VOL
Auxiliary Port
RJ9 headset jack (allowing EHS with Plantronics & Jabra &Sennheiser headsets)
Voice Codecs and Capabilities
Support for G.729A/B, G.711µ/a-law, G.726, G.722(wide-band), G.723,iLBC, OPUS, in- band and out-of-band DTMF(in audio, RFC2833, SIP INFO), VAD, AEC, CNG, PLC, AGC
Telephony Features
Hold, transfer, forward, 5-way conference, call park, call pickup, shared-callappearance(SCA)/bridged-line-appearance(BLA), downloadable phonebook(XML, LDAP, up to 2000 items), call waiting, call log(up to 800 records), off-hook auto dial, auto answer, click-to-dial, flexible dial plan, hot-desking, personalized music ringtones and music on hold, server redundancy and fail-over
HD Audio
HD handset and speakerphone with support for wideband audio
Base Stand
1 angle position available (45°)
Wall Mountable (*wall mount sold separately)
QoS
Layer 2 QoS (802.1Q, 802.1P) and Layer 3 (ToS, DiffServ, MPLS) QoS
Security
User and administrator level passwords, MD5 and MD5-sess based authentication, 256-bit AES encrypted configuration file, SRTP, TLS, 802.1x media access control, secure boot
Multi-language
English, German, Italian, French, Spanish, Portuguese, Russian, Croatian, Chinese, Korean, Japanese and more
Upgrade/Provisioning
Firmware upgrade via FTP/TFTP / HTTP / HTTPS, mass provisioning using GDMS/TR069 or AES encrypted XML configuration file
Power & Green Energy Efficiency
Universal Power Supply Input 100-240VAC 50-60Hz; Output +5VDC, 600mA;PoE: IEEE802.3af Class 1, 3.84W; IEEE802.3az (EEE) (GRP2602P Only)
Temperature and Humidity
Operation: 0°C to 40°C
Storage: -10°C to 60°C
Humidity: 10% to 90% Non-condensing
Package Content
GRP2602 phone
Handset with cord
Base stand
Universal power supply (GRP2602/ GRP2602W only)
Network cable
Quick Installation Guide
Physical
Dimension: 208mm (L) x 180mm (W) x 63.4mm (H) (with handset)
Unit weight: 670g;
Package weight: 880g (GRP2602 & GRP2602W), 830g (GRP2602P)
Compliance
FCC: Part 15 Class B; FCC Part 68 HAC;
CE: EN 55032; EN 55035; EN 61000-3-2; EN 61000-3-3; EN 62368-1;
RCM: AS/NZS CISPR32; AS/NZS 62368.1; AS/CA S004;
IC: ICES-003; CS-03;
Grandstream GRP2602 IP Phone
Handset with cord
Base stand
Universal power supply
Network cable
Quick Installation Guide
Next Day Delivery
For UK orders received before 12pm Monday to Friday, we operate a next business day delivery service, subject to availability. We use next day services from the leading delivery companies.
Specific Time Delivery
If you need an item urgently, or delivered at a specific time, please contact us.
Delivery Methods
We use several leading delivery companies. The majority of our deliveries are made by
DPD, including most international orders.
Shipping prices are calculated during the checkout process.
We deliver to almost every country. For international delivery services, we use DHL, a high quality, fast delivery service. Prices are provided based on the weight of the order; this is calculated when you reach the checkout.
For full shipping information please visit our shipping page.
Hosted Business VoIP Provider Unlimited Calls from £5/month
If you're looking for a reliable and competitive VoIP provider for your small business, we can offer you one of the UK's most trusted services. No need to compromise on quality, either. The capabilities of our VoIP PBX system have been developed over a decade, with our roadmap for the future incorporating even more improvements. Your business VoIP is in safe hands with us.
Learn More
With SIP trunking, your business can operate its own on-site IP PBX system. Xinix has been offering our own SIP trunk solutions for over 10 years.
Business SIP trunking is a service that enables your company to operate a selection of telecommunications systems over your IP network. It offers a number of benefits – from cheaper international call costs to improved business flexibility. Incorporating a Disaster Recovery strategy to give access to an increased quantity of numbers, business SIP trunking from Xinix World can enhance the way your business stays connected.
Learn More